Tuesday, April 14, 2015
Western Multiculturalism - imitating the failed tolerance of the Meccan elite towards Islam.
Importing Moslems, tolerating a fascism, and lying about its 'peaceful' intent is plainly stupid.
by Ferdinand III
Full Article
One of the greatest mistakes in modern history is not learning from the Meccans and their 'tolerance' of mad Muhammad's gibberish, now pronounced a 'religion'. Today some 50-65 million Moslems squat in Western lands, with at least 50% of those immigrants believing in Sharia Barbarism [it is not a Law], and fully aware [unlike most Westerners] that Islam is incompatible with Western ideals. The number of Moslems in Western states will reach 100 million in the next generation. Jihad, Sharia Barbarism, sex-slaving of young girls, necks smitten in city streets and another 9-11 are assured.
Witness the failure of the Meccans to kill Muhammad and do the world a favor.
Mimicking our own collective stupidity, one of the great mistakes in all of history, was the rather incomprehensible charity shown by the Meccans to the ruling tribe's mad poet, Muhammad. Sowing dissension, garbling Judaic-Christian scripture, insulting the Meccan pantheon, disrupting society, fomenting social discord should have earned the mad poet a parting of his head from his sloped shoulders. Instead, the Meccans threw the small cult of Muhammadans out of their city, and on to Medina, and eventual mastery of Arabia they went.
As the historian Gilchrist notes, the Hijra, or flight from Mecca to Medina, was part a preparation for Jihad. This was well understood during the time of Muhammad, and in the early centuries following his murder by fellow-Moslems. The Meccans would eventually see their city conquered by the mad poet at the head of 10.000 men, who smashed their idols, enshrined Arab paganism as divine, and ordered the Meccans to only follow Baal, the family deity of Muhammad, and the Lord or ilah of Mecca.
"In the old Arab law, the Hijra did not merely signify rupture with his native town, but was equivalent to a sort of declaration of war against it. (Lammens, Islam: Beliefs and Institutions, p. 27)
We have already seen how closely related the Hijrah was to the active policy of jihad which immediately followed it and it comes as no surprise to find the inevitable conquest being pursued two years after the truce [between Muhammad and Mecca]. A small provocation by the Banu Bakr, a tribe allied to the Quraysh, on the Banu Khaza'ah, allied to Muhammad, was all he needed to declare the treaty broken. Abu Sufyan, aware that the balances were now tilted well in Muhammad's favour, went to Medina to restore the treaty but Muhammad refused to accommodate him and he returned to Mecca empty-handed."
Muhammad out of self-interest of course, spared the population and the city from Jihadic destruction. As Mehmed II would say of his annihilation of Constantinople, he needed a capital, not a corpse. Interestingly, mad Muhammad butchered the Koranic verse scribe writer, who was charged with recording the frequent and quite convenient revelations from Baal to Muhammad. Apparently the scribe knew a fraud when he saw one, and being so close to the mad poet, understood perfectly well the nonsense that was Muhammad's 'prophecy':
"[After Mecca was conquered] A dozen leading opponents were proscribed though only a few were eventually executed. Two were apostates from Islam, one was a poetess who had particularly irked Muhammad with her satires, and the last was one of two Meccans who had assaulted Muhammad's daughter Zaynab as she fled Mecca for Medina. The others escaped either by hiding themselves or by seeking pardon. One case is of particular interest.
One of these men was Abdullah ibn Abu al Sarh who once converted to Islam and wrote down the revelation for Muhammad, but who then apostatized, returned to Quraysh, and there spread tales about his falsification of the revelation. (Haykal, The Life of Muhammad, p. 410)."
If Muhammad was truly a 'messenger' why would his scribe apostasy and declaim against him?
In any event the madness of Western multi-culturalism, imitates that of the Mecan charity towards the nascent Islamic cult. Apparently that policy did not work out too well for the Meccans.
Monday, April 13, 2015
Why the Crusades were necessary. No Islam, no Jihad, no necessity for the Crusades.
The theological fascism named Submission, caused the Crusades.
by Martin T. Horvat, Phd
Full Article
Modern history's judgment on the Crusades has been severe and myopic, set as it is on portraying this glorious episode of Christian history as morally evil. When I praise the Middle Ages, I sometimes have young Catholics defiantly respond, "All right, all right. But how do you justify the Crusades?" Indoctrinated by revisionist history books and inter-religious study courses, they have accepted the false verdict that the Crusades were nothing more than a condemnable act of intolerance in the name of God.
Further, many of these youth have been adversely influenced by innumerable apologies for the Crusades from so many high-placed Catholic Prelates, religious, and educators of the post-Vatican II progressivist Church. Let me give only a few examples:
* During a visit to Syria this year (2001), Pope John Paul II himself visited a mosque and asked forgiveness of the Muslims "for Christian offenses and violence of the past" (1)
* On July 15, 1999, the 900th anniversary of the fall of Jerusalem to the Crusaders, a party of Christians, claiming to be acting in the name of Christ and as supposed descendents of Crusaders, paraded round the wall of the Old City to publicize a personal apology to Muslims for the Crusades (2).
This small incident says a lot: A new Catholic high school in San Juan Capistrano (CA) chose the team name Crusaders, only to have the name vetoed by the board because "it would be offensive to Muslims, who were targets of the bloody crusades of the Middle Ages " (3).


To accept blame when one is at fault is, or course, good. But in the above cases, the apologizers and reconciliators only show that they have misinterpreted history.
First, they do not understand what motivated the West to a just war: The Crusades were waged to recover the Holy Sepulchre, which had become the target of constant profanation by the Muslims, for the defense of Christian pilgrims, and for the recovery of Christian territory. They constituted a defensive reaction against the Islamic threat.


Second, they do not understand the aggressive nature and fanaticism of Islam (founded by Mohammed, who lived from about 570 to 632 AD), which had been in conflict with Christianity since the Muslim conquests of the 7th century, and had as its goal the imposition of its religion and Mohammedan law on all Europe.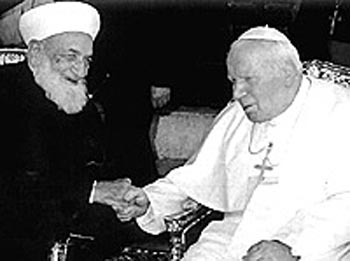 May 6, 2001 - In the mosque in Damascus JPII greets the mufti and asks forgiveness for the past
The anger, frustration and fear roused in all Americans at the September 11 attack on the East Coast provide an opportunity to make the Crusades more comprehensible. There are surprising parallels between the two events. Both then and now, there were:
1. the peril of losing valuable religious principles, such as freedom of worship;

2. a perceived physical threat to fellow countrymen;

3. the injury experienced at losing a landmark site;

4. the sense that what is at stake is nothing less than the survival of Western civilization.
Those who rant and rave against the Crusades may soon find the ground shifting beneath them as they share in a new consensus, which, at base, is not so different from that which supported the medieval religious war they are condemning. Today's call for a war on moral grounds is not so different from that of the Pope who called on Christians throughout Europe to come to the defense of Christendom "out of love of God and their neighbor" (4).
4. Jonathan Riley-Smith, What were the Crusades? (London, 1977), pp. 13-14.
A threat to fellow Christians
Since the third century, a favorite site of pilgrimage for Christians was the Holy Land. When Islam burst out of Arabia and took control of the Middle East in the seventh century, pilgrimages to the Holy Land became more difficult, but never ceased.
But the great age of pilgrimage began with the 10th century. In Palestine, the most beloved site of pilgrimage, the lot of the Christians was no longer so bad, and men and women of every class and age, sometimes travelling in parties numbering thousands, journeyed by sea or the land route to visit "the Sepulchre of the Lord which is in Jerusalem." The Fatimid Arabs who were governing Palestine were lenient, trade was prospering, and pilgrims were welcomed for the wealth they brought to the province.
This period of relative peace came to an abrupt halt at the end of the 10th century. The Arabs were displaced as governors of the holy places by the Seljuk Turks, who reinvigorated the dwindling military spirit of Islam, and again made the call for jihad, or holy war. Their aim was the same as it has been since the inception of Islam, which does not mean "peace," despite the strange and insistent claims of this seen in the newspapers today.
In fact, the word Islam means submission, and not just a passive submission to the book of Islam, the Koran. Submission for the followers of Mohammed means to carry out the will of Allah in history. The Muslim doctrine of the jihad, or holy war, stemmed from the ideas of the prophet himself—that is, that it was Allah's will for a permanent war to reign until the rule of Islam extended over all the world. Hence Islam's political domination could be, and was, spread by the sword. This is why Hillaire Belloc predicted almost a century ago that the West could again see a threat from Islam:
"It very nearly destroyed us. It kept up the battle against Christendom actively for a thousand years, and the story is by no means over; the power of Islam may at any moment re-arise" (5).
5. Hillaire Belloc, The Great Heresies, Chapter Four
Site link where this was published by Martin T. Horvat, Phd.
Friday, April 10, 2015
Another Moslem-Enlightenment lie; 'Christians never bathed'.....
No end to the ridiculous nonsense about the Middle Ages.
by Ferdinand III
Full Article
One has to be fearfully uneducated to believe propaganda without casting a rational doubting eye upon the claim and claimant. 'Enlightenment' philosophes pious in their Atheism or Protestant belief systems, looking upon 500 year old Cathedrals and pronouncing them 'Gothic', a pejorative for barbaric – are hardly the bien pensants that one should listen to or believe. Their ignorance is not 'science' or 'fact'. The great structures of worship which beguile and beckon tourists today can hardly be the outputs of a 'dark age', as mythical and as ridiculously inane as that term is. An age which invented everything imaginable from books to eye-glasses, and blast furnaces to massive grinding mills was not dark.
Witness bathing. The big brains say that the Medieval Christian, toothless, wearing sackcloth, with long shaggy hair, never knew a bath, and when they did, they ran from water as a cat runs from a dog. This is an oft-repeated Moslem lie, as if Islam has invented anything other than Jihad, sex slaving and death. Bathing was common in Roman Europe and that tradition was certainly embedded in the superior culture which followed the non-existent 'fall of Rome'. [Rome was dead long before 476 AD.] Bathing was known, common and at times, a community event in Medieval Europe [which brought its own problems of lack of privacy and even prostitution].
Bathing and bouquets
Marian Horvat, Phd. "The next time you are washing your hands and complain because the water temperature isn't just how you like it, think about how things used to be. Here are some facts about the 1500's:
Most people got married in June, because they took their yearly bath in May and still smelled pretty good by June. However, they were starting to smell, so brides carried a bouquet of flowers to hide the body odor. Hence the custom today of carrying a bouquet when getting married.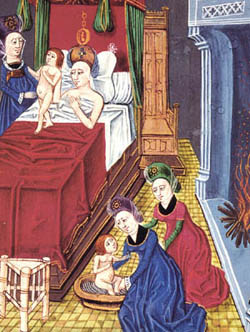 15th century illustration of a midwife attending a birth. The baby is washed in a fresh water basin immediately after birth.
These are not facts, but falsehoods.

Many people married in May or June because they were Catholics and the Church wisely proscribed marriages from being celebrated during the Lenten season, a time of abstinence and penance. By the way, this pious law continued to be followed by good Catholics until Vatican II swept out so many of the good traditions that developed in the Age of Faith.

As for the yearly-bath myth, medievalists have long laid to rest the idea that people rarely bathed in the Middle Ages. The Middle Ages was a period of hygiene and cleanliness. The first bit of evidence we have is the prevalence of soap, a common product used for washing clothes and washing people. Next, there are multiple references in literature and manuscripts to bathing, treated matter-of-factly, as something common place. Charlemagne, for example, used to bathe each morning in a large pool or river, where he would meet with his ministers, who were also invited to bathe.

Bathing was part of a ritual before certain ceremonies, such as knighthood, and in the romances of chivalry we see that the laws of hospitality required offering guests a bath before they dined.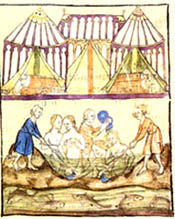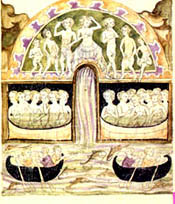 Scenes from 14th century thermal baths houses, popular at the time. The establishments were served by river currents
The first etiquette manuals (13th century), as well as the various monastic Rules, specified washing the hands before eating, and keeping the hair, fingernails and clothing clean. Clearly, washing was frequent – there is evidence all over the place for people washing their hands, faces and feet on a daily basis.

Monastic rules usually had previsions that stipulated washing one's hair and bathing once each week, usually on a certain day. We can also see how the medievals utilized running rivers or streams. The monks of Cluny were the first to take advantage of the nearby running stream to use as a type of indoor plumbing system. One can still find there numerous lavatories close to the refectories.

A saying in France from those days shows how cleanliness was considered one of the pleasures of existence:
Venari, ludere, lavari, bibere; Hoc est vivere!
(To hunt, to play, to wash, to drink, - This is to live!)
One thing I might add, care should be taken not to attribute to the 13th century the revolting uncleanliness of the 16th and subsequent centuries which, in France at least, has continued up to our own time.

As for the bridal bouquet, it was one of numerous beautiful symbolic customs that developed around the Sacrament of Matrimony that we have inherited. For the medieval mind, which saw in all nature a reflection of the Creator, each flower had a symbolic value and displayed a message.

Orange blossom, popular for bridal bouquets, denoted chastity, purity and loveliness. A sprig of ivy was included in bouquets as a symbol of fidelity. Roses represented love, and the lily of the valley, happiness, and so on. The flowers of the bridal bouquet had real meaning; they were not meant to disguise foul odors from a supposedly unwashed bride and groom."



Thursday, April 09, 2015
ISIS will implode like all failed Fascisms
Mein Islam leads to nothing but destruction.
by Ferdinand III
Full Article
ISIS is just following the 1500+ verses of Kufar-hate in Mein Koran. Dominate, tax, control, slaughter, rape....all is justified for Baal the iLah of Mecca, or the moon god of Muhammad. In Mein Koran of course Muhammad is often-times conflated with, and confused with, the iLah or Lord. But, as with other communal fascisms such as National Socialism, or Communism, the annihilation of the individual, of rights, freedoms, free-speech, and religion all leads to the same penury, destruction and eradication of civilization. ISIS territory looks more like 1980 Moscow than a 'liberated' Moslem state.
[lines for food, consumer items...]
Doesn't anyone wonder why the Moslem world is such a mess ? 50% of marriages are 2nd or first cousins. Inbreeding does not lead to genetic improvement. Over half of females are illiterate. Little in the way of innovation or advancement can be traced back to Islam current or past. The modern Islamic world is a mess, why would the medieval Moslem world be any better ? Culture is King, and when your culture is shaped by the fascistic barbarity of Mein Koran under the leadership of Mein Muhammad, it stands to reason that you will create nothing but an impoverished, illiterate mess.
"According to the document, Islamic State is enforcing the gruesome rules as it wants the population to fear God, in order for them to "enter into His mercy". Earlier this year the UN reported that children are not exempt from IS's torturous regime, but have been crucified or buried alive alongside adults when found guilty of crimes including refusal to convert to Islam. Young people with mental disabilities have been used as suicide bombers or as human shields during battle." Link
Only the brain dead don't see Islam for what it really is.
Tuesday, April 07, 2015
Christian science to Einstein and Nuclear energy
Maxwell would not be 'suitable' for academia today. Neither would Eistein.
by Ferdinand III
Full Article
From Maxwell to Einstein. There is no corollary within Islam of course, though I am sure Phds are being minted confirming that Maxwell received all of his input and inspiration from some non-existent Moslem science during the Golden Age. Indeed electro-magnetic theory was no doubt discovered in the mythical Cordoba of the 9th century....
In the modern pagan cults which dominate society – Islam is civilization, warming, the earth mother, atheism, fish-to-men, relativity, exploding everything from nothing – a serious appreciation for life, grace, beauty and existence is given short shrift. The so-called 'Enlightenment' disparaged a thousand years of European progress, belittling the Catholic society that somehow survived the Moslem Jihad, the Vikings, Magyars and Avars, various plagues, famines and 'climate change', not to mention creating modern science, math, medicine, architecture and universities. Books so beloved by the smug 'intellectual', were a medieval creation.
In the modern age we take nuclear power – for good and bad – as a given. Yet it was only developed in the West. It is rather easy for anyone with enough initiative to trace out the direct line from medieval science, the 13th century to the 19th century, and the Christian scientist Maxwell, who provided the key insight which led to our usage of safe nuclear power. I don't see a Moslem lineage or equivalent technological development.
In 1864 Maxwell gave a presentation to the Royal Society of London titled: 'A Dynamic Theory of the Electro-Magnetic Field'. He stated:
"We have strong reason to conclude that light itself - including radiant heat and other radiation, if any - is an electromagnetic disturbance in the form of waves propagated through the electro-magnetic field according to electro-magnetic laws."


Historian of science one Professor R V Jones made the observation that: "This paper is the first pointer to the existence of radiation other than light and heat, and ranks as one of the greatest leaps ever achieved in human thought."
Maxwell did not have a Phd. He was Christian. According to the cults of science today, this would mean that nothing he said or did would be 'scientific'. He would not be allowed an academic post in today's university system of cultish belief and group think.
By calculating the speed of electromagnetic waves, Maxwell postulated that light is a form of electromagnetic radiation exerting pressure and carrying momentum. This is a crucial insight and as Jones states, one of the most germane in the entire history of human thought. Maxwell's experiential data provided the basis for Einstein's work on relativity from which the relationship between energy, mass and velocity contributed to the theory underlying the development of atomic energy. Einstein was another scientist sans a Phd, a deist [though not a believer in the Christian ideal of God]; and today would not be qualified to teach in a university because he would not garner enough grant money. Such is the reduction of science in its purity and purpose.
Monday, April 06, 2015
Pierre Duham and the importance of Middle Age Science.
Without the Middle Ages the 'Scientific revolution' does not exist.
by Ferdinand III
Full Article
And then he saw the light....Pierre Duhem (1861–1916) was a French physicist and historian of science. Before 1904 this famous scientists was quite certain that all of chemistry and physics, including mechanics, electricity, and magnetism, could be understood from thermodynamic first principles [law of matter and energy]. In this regard, saturated in the 'Enlightenment' and Atheist propaganda that no science was known before Voltaire, he regarded the Middle Ages as bereft of scientific advancement. Like many others who actually decided to study the subject he proved himself utterly wrong.
Duhem converted to the common-sense idea of what some call, 'continuity' and incremental change in scientific understanding. It was not dark for 1000 years, and then presto! the light shone and Galileo an earnest Catholic appeared. Copernicus and Newton both stated that they owed their achievements to the insights and labor of others. Some 500 medieval scientists in all manner of disciplines could be named.
It was Duhem who began to bring light and understanding to the subject of medieval science. In 1904, he found an unusual reference to a then-unknown medieval thinker, Jordanus de Nemore (d. 1260). From this small beginning Duhem invented the history of medieval science. Where Duhem's previous histories had been silent or negative about pre-1600 science in the Middle Ages, Les origines de la statique contained a number of chapters on the subject with one considering the impact of Jordanus de Nemore; another his followers; and a third argued about their influence on Leonardo de Vinci.
In his second volume of the same name, Duhem greatly extended his historical scope returning to the middle ages, spending four chapters on geostatics, including the work of Albert of Saxony in the fourteenth century. This investigation formed the basis of Duhem's best book on the subject of Middle Age science, Etudes sur Léonard de Vinci, and Le Système du monde, in which his thesis of the continuity of late medieval and early modern science is illustrated and quite proven.

From 1906 to 1913, Duhem studied the scientific notebooks of Leonardo de Vinci and published a series of essays uncovering de Vinci's medieval sources and their influences on the moderns. This was an important link in the continuity thesis. Da Vinci and his 'Renaissance' contemporaries were undoubtedly part of the Middle Ages and owed a great deal to what preceded them. Common sense would confirm this. In Etudes sur Léonard de Vinci Duhem's proposed the obvious and correct impression that Galileo's efforts were all preceded by a medieval heritage:
When we see the science of Galileo triumph over the stubborn Peripatetic philosophy of somebody like Cremonini, we believe, since we are ill-informed about the history of human thought, that we are witness to the victory of modern, young science over medieval philosophy, so obstinate in its mechanical repetition. In truth, we are contemplating the well-paved triumph of the science born at Paris during the fourteenth century over the doctrines of Aristotle and Averroes, restored into repute by the Italian Renaissance. (1917, 162; 1996, 193.)
Duhem presented Galilean dynamics as a continuous development out of medieval dynamics. We know of course, that this is entirely true, yet in the early 20th century it was a heresy. He recovered the late medieval theory of impetus, tracing it from John Philoponus' criticism of Aristotle, to its maturity in the fourteenth century works of John Buridan and Nicole Oresme:
"The role that impetus played in Buridan's dynamics is exactly the one that Galileo attributed to impeto or momento, Descartes to 'quantity of motion,' and Leibniz finally to vis viva. So exact is this correspondence that, in order to exhibit Galileo's dynamics, Torricelli, in his Lezioni accademiche, often took up Buridan's reasons and almost his exact words" (1917, 163–62; 1996, 194)."

Duhem then sketched the extension of impetus theory from terrestrial dynamics to the motions of the heavens and earth. No one since the Christian era began had ever believed in a flat earth, and many Middle Age scientists were convinced that the earth was not the center of the universe. Gravity was known long before Galileo:
"Nicole Oresme attributed to the earth a natural impetus similar to the one Buridan attributed to the celestial orbs. In order to account for the vertical fall of weights, he allowed that one must compose this impetus by which the mobile rotates around the earth with the impetus engendered by weight. The principle he distinctly formulated was only obscurely indicated by Copernicus and merely repeated by Giordano Bruno. Galileo used geometry to derive the consequences of that principle, but without correcting the incorrect form of the law of inertia implied in it. (1917, 166; 1996, 196.)"
Duhem went further and linked Albert of Saxony [from the 14th century] whose works were printed and reprinted during the sixteenth century, to Galileo. Duhem's key to understanding the transmission of medieval science was Galileo's use of the phrase Doctores Parisienses, which indicated the Parisian scholars Buridan and Oresme, amongst others. Duhem had rightly conjectured that Galileo had used George Lokert's biography of Albert of Saxony, along with the works of the Dominican Domingo de Soto (1906–13, III.582–83). Duhem's thesis, then original, has been confirmed through the studies of A. C. Crombie, Adriano Carugo, and William Wallace.
Duhem, when confronted with the evidence, apostasied, changed his mind and provided important proof that the Middle Ages certainly built and informed the era of modern science.
Thursday, April 02, 2015
Modern science arose only in Christian Europe.
Atheism has little to offer real science.
by Ferdinand III
Full Article
We are told that there was a 'revolution' in the 17th century in science. The implication is that science, or our modern understanding of it, just suddenly popped up, rising out of the mud and superstition of a 'dark age'. This sounds more like propaganda and claptrap than a real history of science. Most 'breakthroughs' are built on the careful accumulation of change and experimentation. Most 'revolutions' are firmly rooted in past events and precursors. Very little erupts at once, caused by a singular combination of events and energy. It stands to reason, as two of the more famous Christian scientists one could name out of 200 Newton and Copernicus admitted, that great insights stand on the shoulders of those who have laboured before.
Atheist-marxist-positivist histories of science either ignore or denigrate the achievements of medieval natural philosophers and scientists. These types studiously ignore the creation of algebra [Diophantus 2nd c AD], physics, calculation of the earth's sphericity, motion theorems, mean speed theorems, advanced geometry [see Descartes], objective experimentation [11th century], the University system [11th c or earlier], engineering [Gothic cathedrals], and the hundreds of inventions from optics [glasses, 13th c], to modern pants, to water milling wheels and the blast furnace. It seems rather odd that modern atheist academics wearing glasses, pants and reading books, would be so inclined to hate the medieval period.
A key objection that 'Enlightenment thinkers' had against the Christian Medieval period was its supposed faith in Aristotle. This is simply untrue [see here]. There were major groups within Christendom that either totally or partially rejected Aristotleian theorem in the natural sciences [Augustine, Siger et al]. Most of Aristotle is utterly wrong and medieval man knew this. His philosophical writings were in the main more compatible with the Christian view and since Aristotle represented the thought of the ancient world, it seems only fitting and rational that the Christian era would attempt to both understand and reconcile ancient Greek philosophy with medieval science. The supposedly rational 'Enlightenment' did not understand this, and such a fact only highlights its bigotry.
Apparently the 'Enlightenment' did not know that Aristotle's writings were condemned in 1277 as being contrary to scripture and observable evidence [Aristotle believed in many phenomena which were simply disproved by science]. The famed history of science philosopher Pierre Duhem, who in the early 20th century pioneered the investigation into medieval science, believed these condemnations of 1277 implied the rejection of the idea that the universe had to be the way Aristotle thought it had to, and the birth of the realisation that the workings of the universe had to be empirically determined. In other words they were a step forward for science. We see this evidenced in the neo-Platonism of Copernicus and Kepler – again in opposition to Aristotle - had developed in Italy through the late Middle Ages while the insistence on an intelligible and rational universe is found throughout scholastic natural philosophy, embedded within an independent University system.
Historian James Hannam, himself not that sympathetic to the Catholic Medieval viewpoint admits that science, in whatever method it arrived [a sudden leap, or a slow transformation], did present itself only in Christian Europe. Surely this must confound the modern Marxist and Atheist:
"Despite the huge volume of modern scholarship on the scientific revolution, there is no agreed answer to the question of why it happened in Western Europe in the seventeenth century and not elsewhere or earlier. Some theories include: sociologist Robert Merton's suggestion of Puritanism provided the conditions for science, Thomas Kuhn's system of normal science and revolution, Frances Yates claiming credit for hermetic magic, Duhem and Stanley Jaki for Catholic theology and Lynn White's contention that the driving force was provided by technological change. No single theory has proved entirely satisfactory or convincing, as they tend to look either at internal or external causes rather than a combination. For the external environment, the medieval contribution might have come from the institution of the university, the reception of Greek and Arabic thought and the worldview of a rational creator God. Internal to medieval science, there is the work of developing, criticising and discarding hypotheses begun by scholastic natural philosophers and still ongoing."
The only theory that makes sense when describing the rise of European science is cultural. Culture is king and only in Christian Europe did modern science, medicine and mathematics arise.
Tuesday, March 31, 2015
Mein Koran, Mein Kampf, lots of violence in Sura 2
Islam is peace you say? Can you read ?
by Ferdinand III
Full Article
Sura 2 in which 15 % of the text preaches violence against Kufar untermensch can be summarized by 2:216:
216: Jihad (holy fighting in Allah's Cause) is ordained for you (Muslims) though you dislike it, and it may be that you dislike a thing which is good for you and that you like a thing which is bad for you. Allah knows but you do not know.
2:216 precedes the supposedly tolerant verse of 2:256 in which Muhammad pleads for the safety of his pathetically small group of malcontents, by invoking 'you believe in your god, I will believe in mine'. This was in Mecca during the 'mad poet days' of Muhammad when he was mocked, scorned and eventually cast out as a trouble making lunatic, who disrupted society, trade and peaceful worship at the Kabaa or shrine. 2:256 is of course followed immediately by threats, Jihad, punishment and violence. In other words, you have your religion and I have mine – and mine is superior and will conquer yours.
257. Allah is the Protector of those who have faith: from the depths of darkness He will lead them forth into light. Of those who reject faith the patrons are the Evil Ones: from light they will lead them forth into the depths of darkness. They will be Companions of the fire, to dwell therein (forever).
*In other words, there is no compulsion in religion because those who do not follow Allah are going to be consumed in the Fire reserved for the ones who follow Evil. In other words eternal damnation.
2:257 is certainly emblematic of Koranic fascism. There are 286 verses in this chapter and fully 15% or 44 verses discuss violence, hatred and war against non-Moslems. This is surely a rather immoderate amount. This chapter mimicks the Koran at large, with its usage of words to dehumanize Christian, Jews and Pagans including such niceties as mushrikun, zalimun, fasiqun, mufsidun, and musrifun; or in plain english; criminal, unclean, hypocrites, evil, wrong-doers, satanic and other appellations to cleave the world into 2 camps. The good people of this world are with Muhammad [or the ilah or 'one' which is the same as Muhammad]. The bad people are the criminals, the polytheists, the Jews, the Christians [who are deemed to be satanic polytheists]; and those who reject the Allah cult. It is much easier ot kill Jews and Christians if they are sub-human.
War against them: 9 verses
190: And fight in the Way of Allah those who fight you, but transgress not the limits. Truly, Allah likes not the transgressors.
Note: This Verse is the first one that was revealed in connection with Jihad, but it was supplemented by another (V.9:36)]. 'Transgress' is hard to delineate since if you keep reading below there seems to be very few 'limits' to fighting and killing the Unbeliever.....
191: And kill them wherever you find them, and turn them out from where they have turned you out. And Al-Fitnah [or disbelief in Muhammad and Allah] is worse than killing. And fight not with them at Al-Masjid-al-Haram (the sanctuary at Makkah), unless they (first) fight you there. But if they attack you, then kill them. Such is the recompense of the disbelievers.
193: And fight them until there is no more Fitnah (disbelief and worshipping of others along with Allah) and (all and every kind of) worship is for Allah (Alone). But if they cease, let there be no transgression except against Az-Zalimun (the polytheists, and wrong-doers, etc.)
216: Jihad (holy fighting in Allah's Cause) is ordained for you (Muslims) though you dislike it, and it may be that you dislike a thing which is good for you and that you like a thing which is bad for you. Allah knows but you do not know.
217: They ask you concerning fighting in the Sacred Months (i.e. 1st, 7th, 11th and 12th months of the Islamic calendar). Say, "Fighting therein is a great (transgression) but a greater (transgression) with Allah is to prevent mankind from following the Way of Allah, to disbelieve in Him, to prevent access to Al-Masjid-al-Haram (at Makkah), and to drive out its inhabitants, and Al-Fitnah is worse than killing. And they will never cease fighting you until they turn you back from your religion (Islamic Monotheism) if they can. And whosoever of you turns back from his religion and dies as a disbeliever, then his deeds will be lost in this life and in the Hereafter, and they will be the dwellers of the Fire. They will abide therein forever."
218: Verily, those who have believed, and those who have emigrated (for Allah's Religion) and have striven hard in the Way of Allah, all these hope for Allah's Mercy. And Allah is Oft-Forgiving, Most-Merciful.
244: And fight in the Way of Allah and know that Allah is All-Hearer, All-Knower.
246: Have you not thought about the group of the Children of Israel after (the time of) Musa (Moses)? When they said to a Prophet of theirs, "Appoint for us a king and we will fight in Allah's Way." He said, "Would you then refrain from fighting, if fighting was prescribed for you?" They said, "Why should we not fight in Allah's Way while we have been driven out of our homes and our children (families have been taken as captives)?" But when fighting was ordered for them, they turned away, all except a few of them. And Allah is All-Aware of the Zalimun (polytheists and wrong-doers).
Note: This might reference self-defence, but the main point is that when Allah tells you to fight, you must, and if you make excuses or 'turn away', you are a Zalimun or wrong-doer.
249: Then when Talut (Saul) set out with the army, he said: "Verily! Allah will try you by a river. So whoever drinks thereof, he is not of me, and whoever tastes it not, he is of me, except him who takes (thereof) in the hollow of his hand." Yet, they drank thereof, all, except a few of them. So when he had crossed it (the river), he and those who believed with him, they said: "We have no power this day against Jalut (Goliath) and his hosts." But those who knew with certainty that they were to meet their Lord, said: "How often a small group overcame a mighty host by Allah's Leave?" And Allah is with As-Sabirin (the patient ones, etc.).
Note: Allah will support those who fight on his behalf no matter how weak they might appear to be versus their enemies. The above verse pillages the story of David and Goliath to link the Muhammadan struggle with a battle between the ancient Hebrews and Philistines some 1650 years earlier.
Clear enough? Or do we need Phds to reinterpret 'the data' for us, and use Orwellian illogicality to claim that war is peace, Jihad is friendship, fighting is hugging. Islam is a cult dedicated to Jihad and dominating if not killing non-Moslems in the name of the Allah-thing.
Sunday, March 29, 2015
Allah is Baal or Satan, as the cult of Islam's practices and rituals make clear
Worshiping a moon idol ? Maybe acquire some intelligence and leave the cult.
by Ferdinand III
Full Article
The evidence that Allah or 'the Lord', was a moon deity is rather overwhelming. The crescent moon adorns every mosque and flag of Islam. The moon deity Hu'Baal was the chief Lord of Mecca, and Baal is another name for the Babylonian Sin or moon god. Plenty of factual information about Islam's moon god is found here.
To wit: The worship of the moon and its various phases is a well-known historical fact. Hub'Al or Hub Allah, or Hu' Baal, is simply the moon god of Mecca. Baal was another name of the Babylonian moon deity Sin. Baal is often mentioned in the Bible and is linked to evil, including sexual depravity, child sacrifice, bull-worship, polygamy and tyranny.
Moslems are not good with evidence, reality or truth. Muhammad's family were the caretakers of the Baal shrine, and Baal was the Lord or ilah of Mecca, the main idol out of the 360 worshipped by the Meccans. He had a consort [sex slave] named Allat the Sun Goddes and two daughters, Uzza and Manat [Venus and the Moon]. The worship of constellation bodies was a common Near Eastern practice.
Prof. Potts pointed out, "Sin is a name essentially Sumerian in origin which had been borrowed by the Semites." In ancient Syria and Canna, the Moon-god Sin was usually represented by the moon in its crescent phase. (Full Article)
The Symbol, the crescent moon, is very important here because Muslim scholars argue that the presence of the Moon God in Arabia proves nothing. Sure - they say, there was Hubal in Mecca and this deity was worshipped there together with other 360+ gods. This is why Muhammad got rid of all these idols and converted all the Arab tribes into the only and true religion - Islam.


There are however strong arguments against this interpretation.


If it is true that Muhammad abandoned all ancient Quraish deities and Hubal - the most powerful one, why is it that many Islamic rites and customs are the same as the old pagan ones?
The pagan rituals of pre-Muhammadan Arabia were simply codified as 'divinely' inspired by Muhammad. This was the political compromise effected by Muhammad to allow the former pagan Meccans the belief, that they were still worshipping in the same manner as their ancestors.
Muhammad to the Meccans: "Keep your rituals, your rites and even your private beliefs he told them; but only worship the one Allah as the Lord of Lords, the only deity of divine inspiration. And remember most importantly, I am his spokesman, interpreter and only agent on earth. As well, by doing so I will not have my brigands cut off your heads. Oh, and by the way, pay that Zakat tax to the centralizing state power. We need that to fund the Umma, Jihad and public projects."
Baal is allied with Satan in the Old Testament. When viewing the cult of Islam, its Jihad, its murder, its endless war, its sex trading, its polygamy and sex obsession, its pedophilia, its intolerance, and its hate, it is not hard to see why this association is valid.